An Exclusive Experience held in Odawara Castle
Odawara Castle is yours for this exclusive experience held after hours at the top of Odawara Castle. This experience is led by a bilingual local zen monk and includes discussion, meditation, and interaction to make this an unforgettable and worthwhile time for all participants.
Multilingual monk from local zen temple
Enjoy Odawara Castle After Hours
Long time resident and local
We welcome you to the grounds of Odawara Castle in Japan for the "ZEN Experience." This experience lets you learn and enjoy the fundamental techniques of meditation. The experience includes an English speaking guided meditation practice that helps you find and rediscover a renewed feeling of health and wellbeing. You can transform every area of your life by taking this meditation course which teaches you what ZEN meditation is and new ways to use your mind and discover new states of being. This experience is held outside of business hours of Odawara Castle Tower, so the venue is reserved for exclusive use. The program's total time will be about 90 minutes.
Iwayama Tomomi is the priest of Ganshu-ji Temple in Odawara. He shares to the modern world the importance, culture, and techniques of ZEN towards individuals and corporates for many years. Participants in past events are from different backgrounds and have included everyone from curious individuals to team building events with Google Japan. The goal of his teachings is to help clearing your mind and rediscover the infinity of potential of human beings.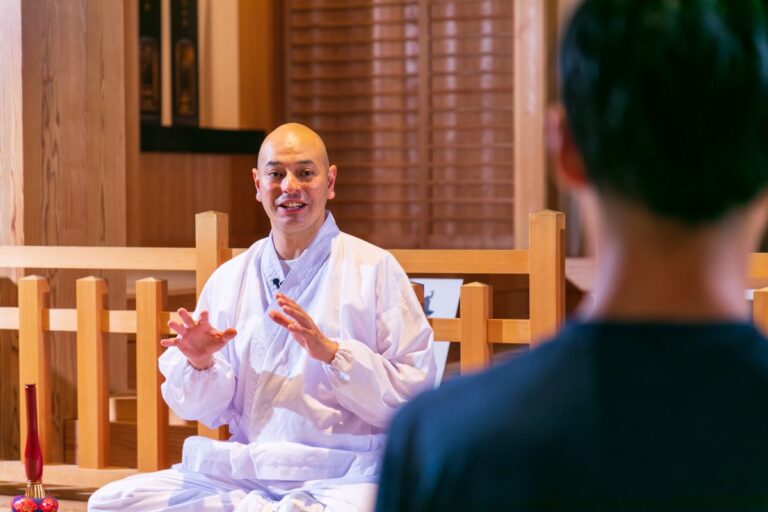 What's Included & What to Bring
Guests will have special access to Odawara Castle after hours. This exclusive experience is held at the top of Odawara Castle. The host is fluent in Japanese, English, and German languages. Please wear comfortable and loose clothing and something to drink. Chairs will also be available for everyone to make the setting as comfortable as possible. Participants will be expected to be moderately have a moderate level of physical fitness.
Adult (+18) booking with one person: ¥20,000 Adult (+18) booking 2+ group: ¥15,000 per person A person must be at least 18 years old to join this experience.
Inside Odawara Castle, a 10 minute walk from the East Gate of Odawara Station. Guests will be greeted at the bottom of the stairs of the entrance to the main keep of Odawara Castle at 17:00. The time allotted for this experience in 90 minutes.
・This experience is booked on request. The owner of the experience will respond to the request within 3 days.
・A person must be at least 18 years old to join this experience.
・For cancellation, please contact us at odawaratourco@gmail.com
・Contact Information: Odawara Tourism Association TEL +81-465-20-4192
・Email: odawaratourco@gmail.com
・2 person minimum required for booking
・Cancellation fee of 100% if booking is cancelled 1 day or less before event
・Cancellation fee of 50% if booking is cancelled 3 days or less before event